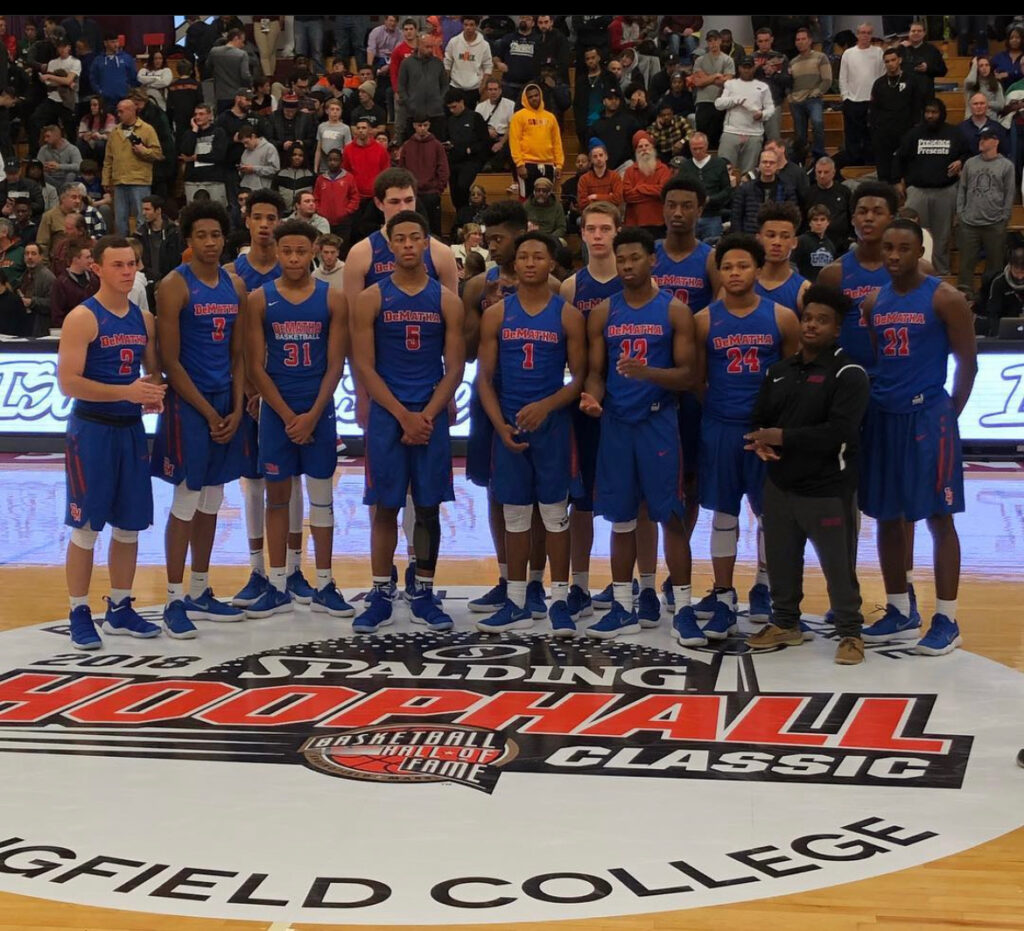 News surfaced a few days ago on social media that former DeMatha/UMD soccer star Justin Gielen will be playing basketball at Mount St. Mary's this coming season for Head Coach Dan Engelstad and the Mountaineers.
DMV hoops fans may remember Gielen from his days playing hoops for Mike K. Jones and the DeMatha Stags. Gielen played on a loaded roster for the Stags who won the WCAC championship in 2018, the 40th league championship for the Hyattsville basketball program.  That DeMatha squad featured guys like Hunter Dickinson, Justin Moore, Earl Timberlake, Jahmir Young, Josh Wallace, and Gielen.
Gielen played hoops at DeMatha for all four years; one year on the freshman team, a sophomore season split between JV and varsity, and his junior and senior seasons on varsity.  Every season his soccer obligations wouldn't end until hoops was underway.  He was always in shape, but was sometimes at a bit of a disadvantage since almost everyone else on the basketball team was locked into hoops year round.  "Justin is the ultimate athlete.  He was always in great shape, and would spend weekends or time off during the soccer season getting shots up with his family so when the season started he could hit the ground running," said Coach Jones.
Gielen's soccer accolades were tremendous.  As a freshman, he scored the game winning goal in the WCAC championship.  As a senior he scored 23 goals in 20 games and took home Washington Post All-Met player of the year honors. Soccer always seemed to be Gielen's destiny.  He would go on to play for four years at the University of Maryland. Midway through his collegiate soccer career, Gielen realized he missed hoops. "After my sophomore soccer season at Maryland, I started thinking about college basketball. I started to get the itch and began thinking about how I could make that a reality. Obviously I knew I had a couple of years of soccer left, so I was in a unique situation," he said.
Fast forward to present day and Gielen is ready to get back to the hardwood.  I spoke to Mount St. Mary's head coach Dan Engelstad about his newest player. "A coaching colleague reached out regarding Justin so I did my homework. I reached out to a bunch of folks who were familiar with him from his days at DeMatha and heard nothing but praise. He may have a little rust to kick off, but I know I'm getting a worker, a leader and a high character player. All of the intangibles are there," Engelstad said.
Asked about his future in soccer, Gielen told me that he thinks his soccer days are now behind him.  He is ready to focus on hoops as he has two years of eligibility remaining, one of which is the additional year all athletes were afforded due to COVID.  Mike Jones said, "If basketball was the only sport that Justin played as a student-athlete at DeMatha, he would have had multiple D-1 scholarship offers."  He took a unique path; but Gielen is now set to begin his collegiate hoops career.
Gielen will be enrolling in a two year MBA program at the Mount where he will study data science.  Gielen and the Mount open up their 2022-23 season at West Virginia on Monday, November 7th.