2018 ALL-XFINITY ALL-TOURNAMENT TEAMS ANNOUNCED
After much thought we present you with the CAPITOL HOOPS 2018 All-Xfinity-All-Tournament-Team.
Stats play a huge role in deciding the teams, but watching the flow of the game and seeing how each player left their mark on the games this weekend was also huge.  All tournament team is solely decided on how players played in their game(s) at Xfinity Center, not just the championship game but their overall performance in both games (or the rare scenario that they made this list and only played 1 game). Regular season play and regional playoff play had no bearing.  Winning was the most important factor.  You won't find many players who didn't win a state championship on the first team.
Where you are going to college, or what AAU team you play for has no bearing whatsoever on our votes.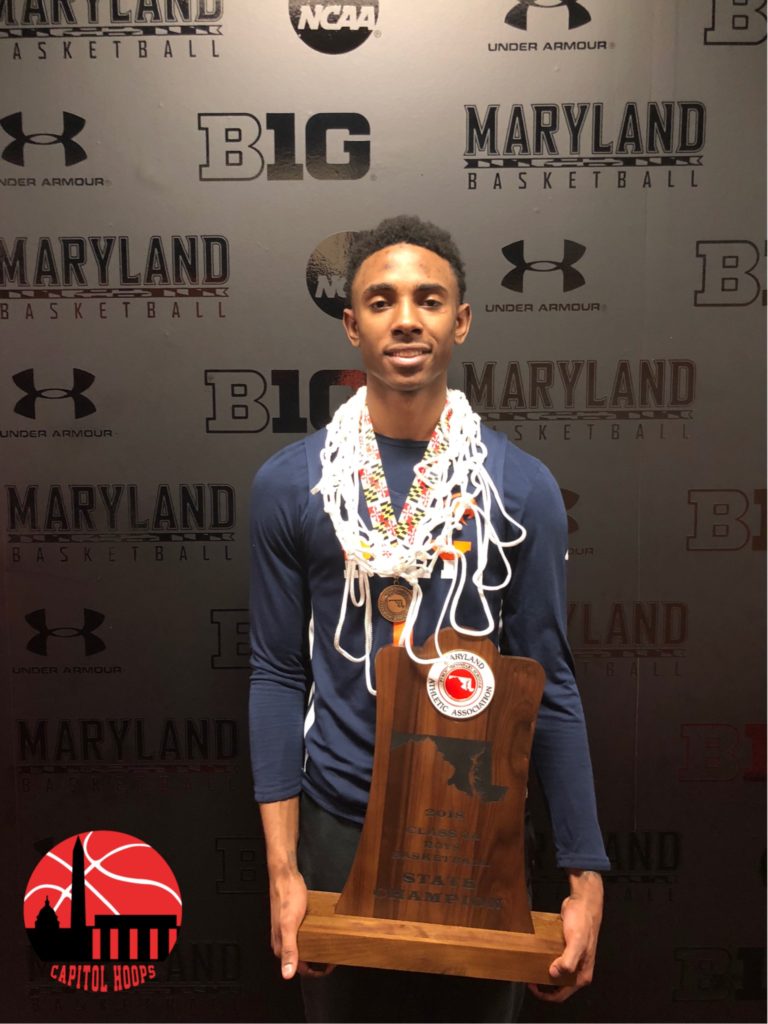 MOST OUTSTANDING PLAYER
# * Demetrius Mims — Poly — Senior
Mims became Poly's All-Time leading scorer in their semifinal win over Decatur.  He averaged 23.5 PPG, 6.5 RPG, 1.5 APG, 1 BPG and 1 SPG. He shot 51.7% from the field, and 88.2% from the stripe. It was evident from the jump that Mims had the experience, confidence, and production to lead Poly to a state championship.
---
FIRST TEAM
# * La'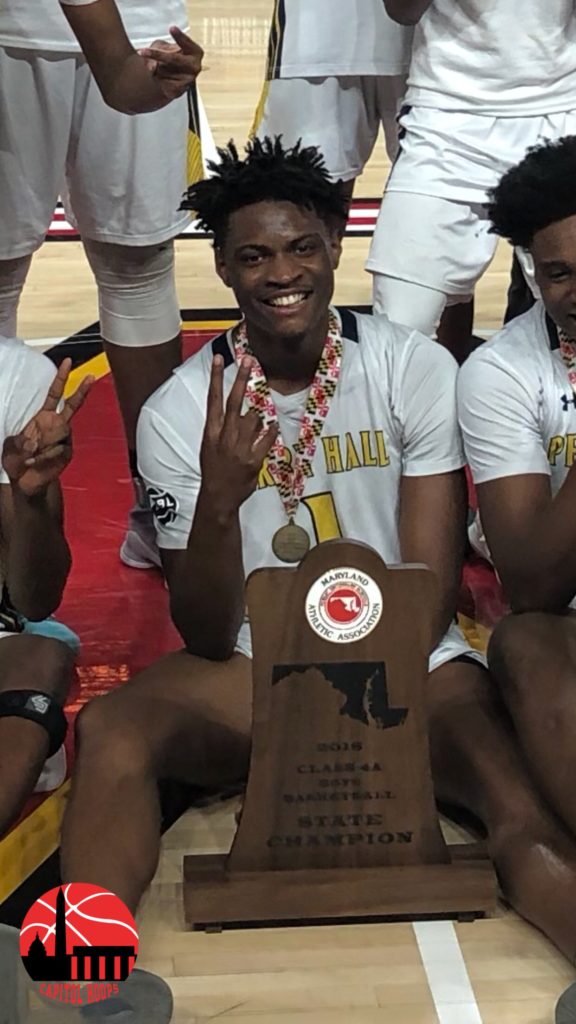 Q
uill Hardnett —
Perry Hall — Senior
Hardnett had the best individual game of the entire tournament, a 31 point effort in the 4A state championship that included a stretch where he scored 11 straight points that brought Perry Hall from down 10 to up one in the fourth quarter.  For the tournament the future Cincinnati Bearcat averaged 19 PPG, 12 RPG, 4 APG, and two blocks per game.  Hardnett converted 17 of his 29 FG's, good for 58.6%.  Hardnett tied with two others for the most assists in the tournament with 8.
---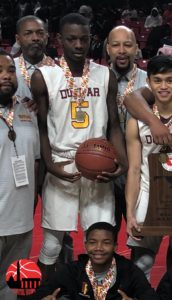 # Da'Shawn Philip — Dunbar — Senior
Phillip averaged 23 PPG, 11 RPG, 2 APG, and 3 SPG. He was 19 of 31 from the field (61.2%). Philip was absolutely dominant for the Poets. Philip was incredibly effective and efficient in his 56 minutes of action at Xfinity. Phillip was the tournament leader in steals with 6.
---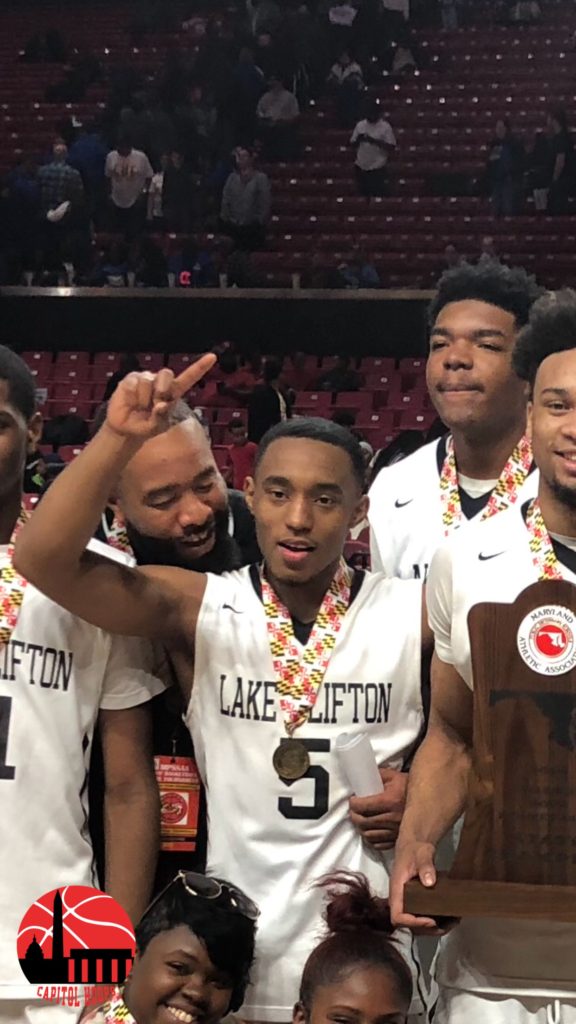 # 
Benjamin Carter — Lake Clifton — Senior
Carter averaged 17 PPG, 7.5 RPG, and committed only 3 turnovers in 63 minutes of action. The Cedonia/East Baltimore product who carries a 3.5 GPA was a consistent force for the Lakers on both ends of the court.
---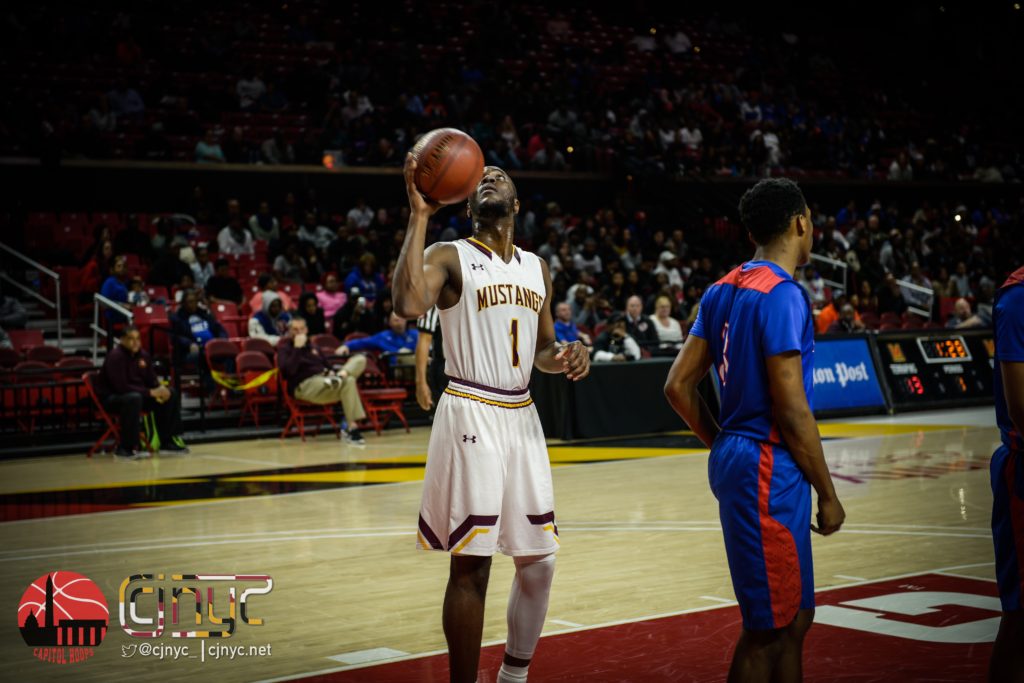 Daniel Oladapo — Bladensburg — Senior
Oladapo is th
e only first teamer not to win a state chip/  The 6'7″ powerhouse double-doubled in both ga
mes go
ing for 27/11 and 18/14.  For the tournament he averaged 22.5 PPG, 12.5 RPG, and play
ed in 62 of Bladensburg's 64 minutes.  Oladapo attempted the most free throws of any player in the tournament.  He finished 18-28.  He shot 50% from the field.
---
# Justin Lewis — Poly — Sophomore
Lewis averaged 14.5 PPG, 12 RPG, 2.5 BPG, and 2 APG. He shot 50% from the field, and was a menace inside. Lewis was a human highlight reel at Xfinity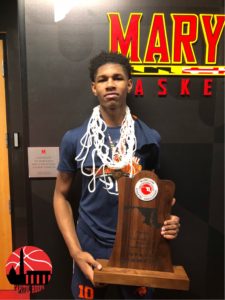 SECOND TEAM
Joey Adams — North Caroline — Senior
Adams was the tournament's leading scorer at 27.5 PPG. He registered 29 in North Caroline's semifinal win, and 26 in their state championship loss. He also averaged 5.5 RPG, 2 SPG, and connected on 9/20 3pt FG's.  Adams made more three's then any other player in the tournament.
# * Tyler Holley — Perry Hall — Senior
Holley, who just completed his third trip to Xfinity has proven himself time and time again on the biggest stage.  The plus size guard has a knack for the clutch and delivered once again for the now back to back 4A champion Gators.  Holley averaged 12.5 PPG, 4.5 RPG, 3.5 APG, 2 steals per game, a block per game and finished 11/13 (84.5%) from the line.
# Jamal West — Dunbar — Sophomore
West was the leading rebounder at Xfinity this weekend, with a staggering 16.5 RPG average, including 8 offensive rebounds per game. He also averaged 11.5 PPG and 2 BPG. West only committed 3 turnovers in his 57 minutes of action.
*Darren Lucas-White — Fairmont Heights — Senior
Lucas-White averaged 16.5 PPG in his two games, 5.5 RPG, 3.5 APG, and 2.5 SPG. He shot 50% from the field, and was the catalyst for Fairmont Heights.
Ugo Obasi — Milford Mill — Senior
Obasi averaged 16.5 PPG and 8 RPG, and committed only 1 turnover. He was instrumental in Milford Mill's success at Xfinity.
THIRD TEAM
# * Anthony Higgs — Perry Hall — Senior
Higgs, another repeat All-tournament team performer from Perry Hall was a force in the paint for the Gators.  The Mississippi commit averaged 10.5 PPG, 8 RPG, and was the tournaments leader in blocked shots with 8 total.
Eric Turner — Milford Mill — Senior
Turner averaged 15 ppg, 6 rpg, and committed only 1 turnover. He was 11/19 (57.9%) from the field, including 44% from 3, and came up clutch down the stretch in Milford Mill's semifinal win over Thomas Johnson.
% Collin Schlee — Oakdale — Junior
Schlee was excellent in his one game at Xfiity as he went for 22 points, 5 rebounds, and 4 steals in his 27 minutes of work.  He connected on all 4 of his FT's.
# Ronald Lucas — Lake Clifton — Senior
Lucas had a monster championship game as he was arguably the team's MVP in the finale.  In that game he finished with 14 points on 6-7 FG, 13 rebounds, 3 blocks and 0 turnovers.  For the tournament he averaged 9.5 PPG, 10 RBP, and 2 BPG.
Joshua Williamson — Bladensburg — Senior
Williamson broke out at Xfinity averaging 15.5 PPG, 4RPG, 2 APG, and 2 SPG as Bladensburg got so close to a state title.
# Denotes 2018 state champion
% Played only 1 game
*Denotes Player was selected to 2017 ALL-TOURNAMENT TEAM